Date
Apr 29 2022
- May 02 2022
Expired!
Mambo City's 5Star Congress 2022
Mambo City 5Star London Salsa Congress
A weekend of Music and Dance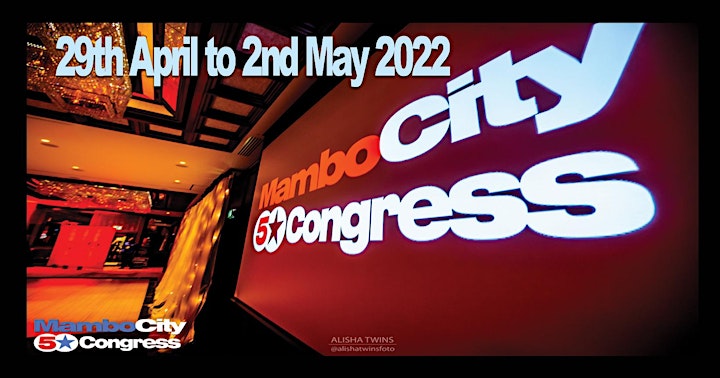 The 17th 5Star London Salsa Congress..Taking Place @Tthe Radisson Blu, Edwardian Hotel, London Heathrow.
Workshops, Shows and Parties until Breakfast,
The Longest Running International Salsa Congress in the UK….."Voted Best Dance Festival 2 years running & Runner Up ."LUKAS AWARD" 
29th April to 2nd May 2022
Reasons to Attend:
1. Everything is under one roof
2. You can go straight to breakfast from the dance floor. workshops, dinner, shows & parties are never too far away.
3. Visit Central London and do bus tours
4. Stargate for performance opportunities for teams
5. Unwind in the gym, sauna, book a treatment and more….
6. Did we mention up to 5 rooms of music and dance?
7. So after arriving at the Hotel, park up for the weekend and Enjoy….The is a premier Salsa event taking place at the prestigious Radisson Blu, Edwardian Hotel, London Heathrow.
Weekend Pass Early Bird Price
1st Jan £147
1st Feb £157
1st 1March £167
On the Day£180
Saturday or Sunday Early Bird Price:£65
1st Jan £90
1st March 95
On the Day £100
8. Should the event be postponed due to Covid restrictions, you will be offered the choice of full refund on passes or to carry passes over to the next event.
Local Time
Timezone:

America/New_York

Date:

Apr 29 2022

- May 02 2022

Time:

2:00 pm - 4:00 am